NH-VT Commerce Trail Opens Up Possibilities on Border
December 18, 2012
Jake Mardin
Colebrook News and Sentinel
Various snowmobile club volunteers and state and local officials gathered in Colebrook and Lemington on Friday to celebrate the opening of the New Hampshire-Vermont Commerce Trail and the reconditioned Connecticut River Recreational Trail that runs along the old railbed from Colebrook to Stewartstown.
"Anybody riding in New Hampshire that is registered as a New Hampshire rider can come around and go to Canaan" and vice-versa, said Vermont Association of Snow Travelers (VAST) Essex County president Ray Dubreuil. "It's a benefit to Colebrook, Canaan and West Stewarts-town."
Part of the trail follows the reconditioned railbed, which is owned by the State of New Hampshire. Riders can travel down the trail, across Bridge Street and into Lemington, where they can connect with Trail 103 to Trail 96, then to C105/96, and from Trail 96 into Canaan. The commerce trail utilizes about 18 miles of previously established Canaan Border Riders trails in Vermont and the eight-mile railbed trail. Mr. Dubreuil said he worked with Vermont Reps. Chip Conquest and Bill Johnson on legislation to allow creation of the trail.
Chris Gamache of the N.H. Trails Bureau said the state bought the railbed a decade ago, and next year it will be open to ATVs as well. "The trail should draw a lot of riders to the area," he said. "It's been a great project for us." He thanked the clubs and the volunteers for making the trail possible, and noted that other organizations working on the project include the Vermont Association of Snow Travelers, the New Hampshire Snowmobile Associa-tion, the Colebrook Ski-Bees and Canaan Border Riders.
Rep. Johnson said it is "great" that the two states were able to work together to make the trail a reality. "I think it's a very positive thing for the area," he said. Colebrook Ski-Bees president Clay Hinds said the Colebrook area's economy will benefit greatly from the trail.
Tri-State Reciprocal Weekend
NHSA announced last week that New Hampshire, Maine and Vermont will observe a reciprocal snowmobiling weekend on January 25-27. All snowmobiles legally registered in Maine and Vermont will be able to operate on New Hampshire trails during the three-day open weekend. All other New Hampshire laws and rules regarding the operation of snowmobiles must be followed, such as speed limits and youth operation standards.
All snowmobiles legally registered in New Hampshire may travel in Maine and Vermont during the reciprocal weekend. All other Maine and Vermont snowmobile laws and rules must be complied with, including the Vermont mandatory liability insurance and youth requirements.
Information on snowmobiling rules in Vermont is available at www.vtvast.org; information on snowmobiling in Maine can be found at www.mesnow.com; New Hampshire rules are on-line at www.nhsa.com.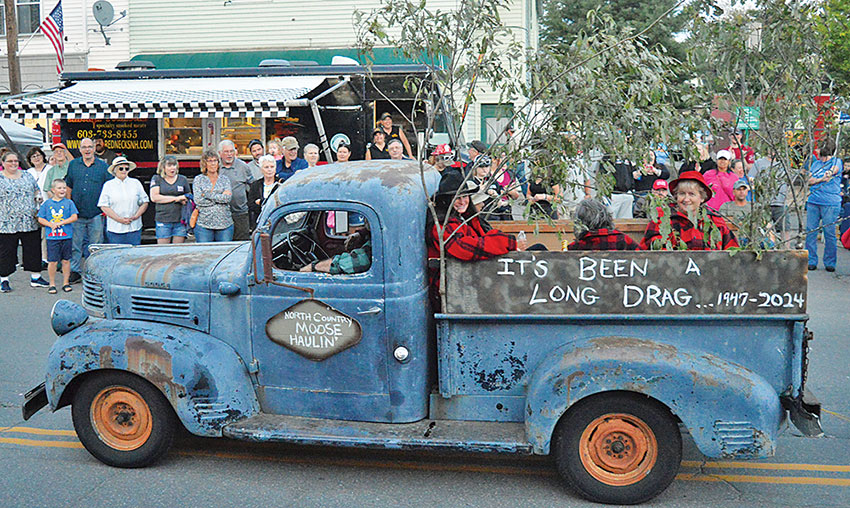 Bob Lemieux of the Colebrook Ski-Bees and Chris Gamache of the N.H. Trails Bureau post a sign designating
the railbed from Colebrook to Stewartstown as part of the New Hampshire-Vermont Commerce Trail.
Riders from New Hampshire and Vermont enjoy reciprocity on the trail, which opened in a ceremony held on
Friday in Colebrook. (Jake Mardin photo)